A Document of Christian Truth
      This 8½ by 11 inch, 352 page paperback book for $22.95 with free shipping, and gives the reader a systematic understanding of the basic truths of the Christian faith. Doctrine is taught with originality, in the power of the Holy Spirit, with dynamic revelation! It builds solid truth in a structural style, and should resonate with any believer as prophetic, personal, and inspirational. Theologically, it is equivalent to a four year Bible College or University. Biblical truth is taught to equip the Christian and minister with significant knowledge and wisdom on over fifty topics. Many false beliefs and misconceptions are dealt with, while God's Word is taught in clarity.
     The book shares breakthrough insight on many subjects of the Bible that are hard to understand. Also, there is groundbreaking teaching on the born again experience, the constitution of the Christian or who we are in Christ, the baptism with the Holy Spirit, authentic worship, and much more! This is a textbook for the Christian life. Many will see it as a great source for sermons, curriculum, and position papers. The table of contents of 42 chapters is shown. These topics should strike the interest of any God-fearing, truth-loving Christian. You will not be disappointed as the Holy Spirit articulates God's will, sorts out ideas, clears away confusion, and builds solid beliefs and practice! You will see a consistency of relationship. The Bible is a unified masterpiece of truth, it's all related.
A Document Of Christian Truth Book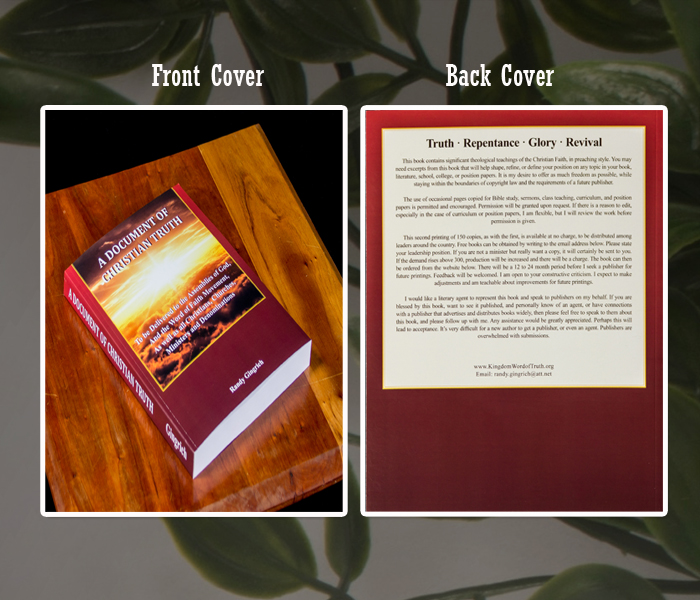 The book is available in two forms. You may buy a hard copy for $22.95. You also can Obtain the book electronically and download it for free! See the store for details.