Welcome to
Kingdom Word of Truth Ministries
With the Gospel of Jesus Christ
And the Book
A Declaration of Christian Truth
To Equip the Church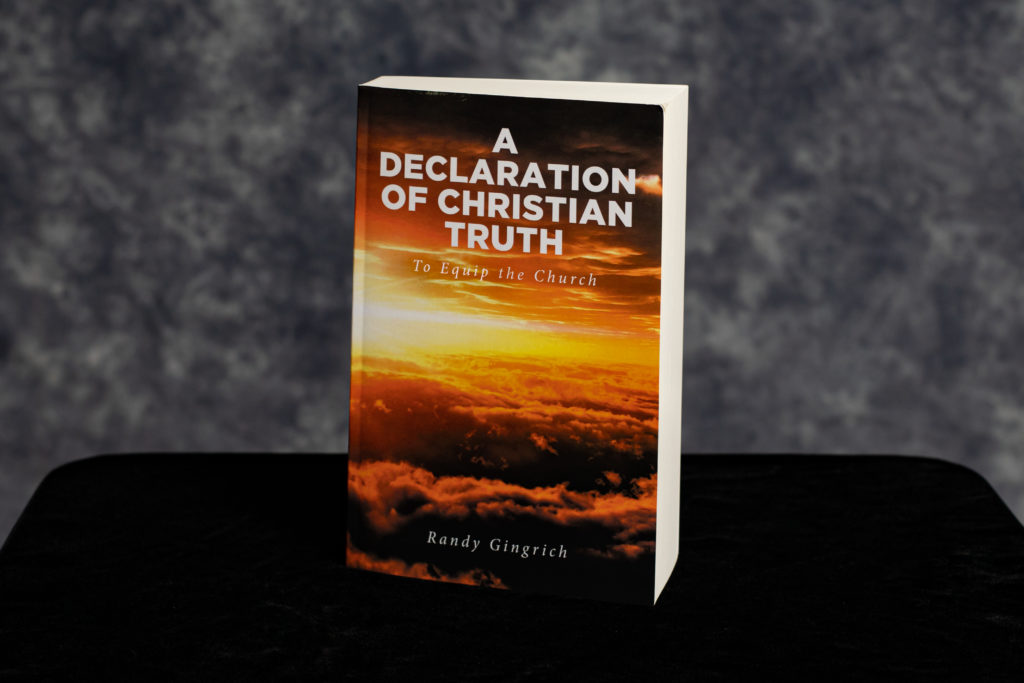 This 794 page book takes the reader on an adventure of intriguing theological thought as it explores over fifty topics relevant to the Christian life. The author's teaching is to the point yet comprehensive enough to answer a range of questions as it articulates the truth of God's Word. The value of understanding the Bible blossoms in the beauty of God's glory as the wisdom of the Lord applies his truth to our everyday life.  
     A much-needed systematic theology is established as doctrine is taught with originality in the power of the Holy Spirit with dynamic revelation. It builds solid truth in a structural style and should resonate with any believer as prophetic, personal, and inspirational. Theologically, it is equivalent to a four-year Bible College. Biblical truth is taught to equip the Christian and minister with significant knowledge and wisdom on over fifty topics. Many false beliefs and misconceptions are dealt with while God's Word is taught in clarity.
    The book shares breakthrough insight on many subjects of the Bible that are hard to understand. Also, there is significant teaching on the born-again experience, the constitution of the Christian or who we are in Christ, the baptism with the Holy Spirit, authentic worship, and much more.
    This is a textbook for the Christian life. Many will see it as a great source of sermons, curriculum, and position papers. The titles of the forty-four chapters should strike the interest of any God-fearing truth-loving Christian. You will not be disappointed as the Holy Spirit articulates God's will, sorts out ideas, clears away confusion, and builds solid beliefs and practice! You will see a consistency of relationship. The Bible is a unified masterpiece of truth; it's all related.
    Most chapters start fresh with new topics and developing themes. There are studious sections that dig deep for the purpose of benefiting everyone with greater appreciation and knowledge of God's Word while attempting to satisfy the Bible College graduate.
    There is much teaching today that has obscured the true meaning and application of scripture, placed a veil over the heart of believers, and deprived Christians of its complete relevant impact upon them. Therefore, it was necessary to write a book which establishes a systematic theology based upon the full counsel of God (Acts 20:27) without imposing agendas nor being controlled by any religious group.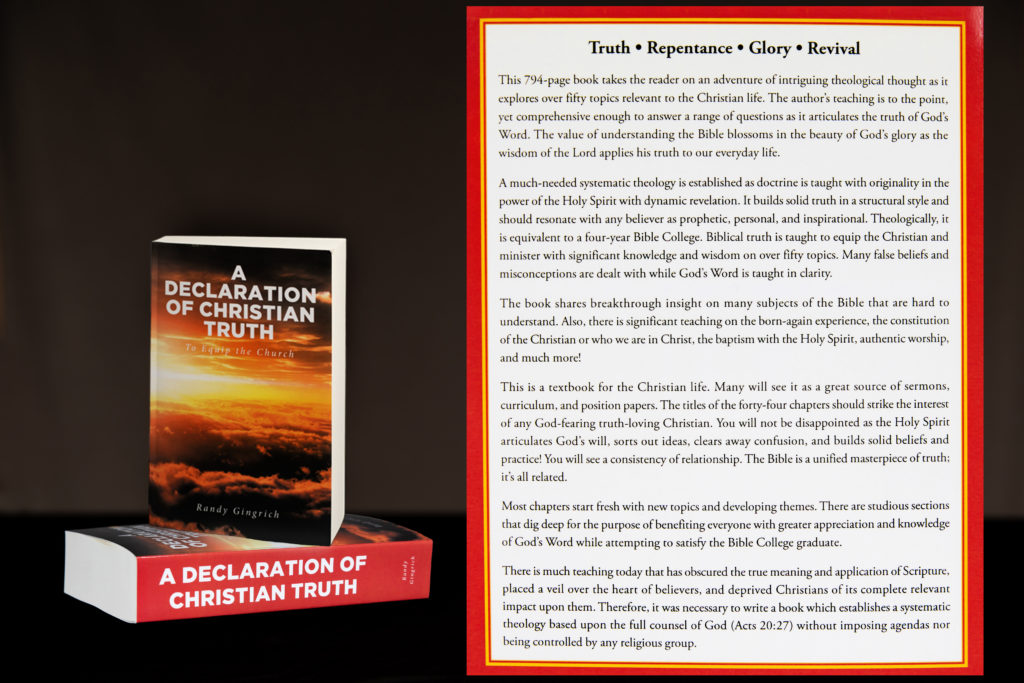 To view chapters 3, 6, 7, and 17 click on "Sermons / Messages" below
This 4 by 9 inch, 14 page salvation pamphlet is ideal for unsaved people who are asking questions but may have wrong concepts that are hindering them. Its purpose is to remove these obstacles from their thinking, and give them understanding. The pamphlet answers the five most common questions that people have about God and the meaning of life. The simple message of the Gospel of Jesus Christ is powerful enough to penetrate the heart and reveal answers, but some subjects need to be explained specifically, for greater breakthrough in repentance and faith! The 44th chapter of A Declaration of Christian Truth explains the full purpose of this pamphlet, in removing hindrances to evangelism. The booklet is then pasted into the chapter. It's an extensive salvation message with exposition on the truths of the gospel, in sermon style, which takes forty to sixty minutes to read. Among other things, it teaches on the inner workings of the Atonement, and thereby increases faith and understanding of the Savior!
The expense of producing these pamphlets is currently $2.50 apiece, much more than expected. But we do offer a free digital download in the store, so that you can share it with others at no expense. Everyone has their own circle of influence. If you plan on using these in your personal life as a part of your strategy to reach the lost, we suggest that you purchase several and keep them handy in your car or with you, ready for when the need arises. Just one booklet in the hands of the right person is priceless! If you are having a church outreach, you may want to buy these in large volume and have the church information stamped on page 14.
Address: P. O. Box 278 Chapman, Kansas 67431

Website: www.kingdomwordoftruth.org

Email Address: info@kingdomwordoftruth.org
2019-11-25